Are you looking for a knife that is truly versatile and multi-functional?
Then, Gyuto- the fabulous Japanese Chef's knife can be the right choice for you.
The best Gyuto knife offers the benefits of both strong Japanese steel and stunning Western style.
The all-purpose blade edge of this type of knife can cut practically any kind of food for your convenience. More specifically, it is compatible with almost all types of cutting motions, including dicing, slicing, chopping, and mincing.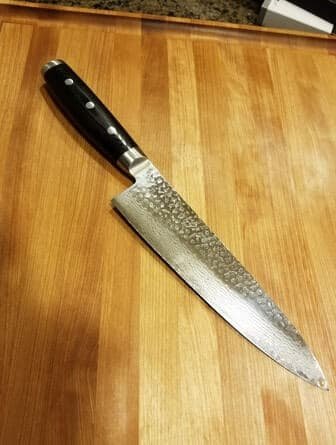 So, interested to invest in one?
This Gyuto knife review will guide you to choose the perfect one easily and smoothly.
Factors to Consider When Buying a Gyuto Knife
These 7 models are perfect to add to your collection of knives. But there are some considerations to make a right choice to suit your needs.
Here is what you need to know before you decide to invest in a Gyuto knife:
It is crucial to consider the blade material. In general, all Japanese Gyuto knives are crafted from hard and durable stainless steel. The most commonly used steels are AUS-10V, VG-10, SG-2.
VG-10 has high-carbon content. In the Rockwell scale, it ranges from 60 to 62. SG-2 contains high-carbon as well as high-alloy stainless steel. It also features vanadium to ensure better resistance to wear.
All of these components practically durable. But they differ in slicing performance. High grades stainless steel offers more precise cut than other types.
Notably, premium quality steel blade holds a sharper edge for a long time.
The core blade materials of this type of knife are layered with some cladding materials. This outer layer adds distinct appearances and controls the carbon activity.
Two major types of cladding for Gyuto are Damascus and Kurouchi.
Knives with Damascus cladding gives them a premium look. Damascus cladding can be carbon-based or stainless. For easy sharpening, carbon Damascus cladding is ideal. On the negatives, a knife with Damascus cladding comes with a higher price tag.
On the other hand, Kurouchi cladding gives the blade a rustic appearance. This cladding might be forged, sprayed, or lacquered.
Choose the blade's length as per the size of the items that you need to be cut frequently.
8 to 8.5″ blade length is perfect for almost all tasks.
If you're confused, we recommend buying a model with an 8-inch blade. Then, invest in a longer one if you need to cut oversized items such as melons and cabbage.
The weight of a knife influences both its function and ergonomics. A heavyweight piece may offer better cutting power through the combination of its weight and edge. Unfortunately, it will be unwieldy for a more delicate cut or speed task such as quick dicing.
On the other hand, a lightweight model is perfect for more delicate tasks. However, we will recommend going to a model of average weight. This knife is versatile to move from one task to the next without swooping knives. This is particularly important if you plan to buy a single knife instead of a full set.
Surprisingly there is a variety of handles materials. Popular materials include steel, plastic, wood. Each type has advantages and drawbacks, which you will need to factor into your decision.
When it comes to handling design, some models feature rounded shape while others have dimples for the fingers. The round shape handle features some sort of texturing for safe grip.
Before you purchase a Gyuto knife, you should take into consideration the price. The price depends on the feature as well as on the overall quality of the knife. Unfortunately, some brands tend to charge more for a product that actually does not offer the best quality.
We recommend choosing a model that comes with the most beneficial features for a reasonable price.
Best Gyuto Knife Comparison Chart
Check out our quick chart below to compare the specs of all the reviewed 7 models at a glance.
Invalid table id.Invalid table id.
Due to the high-popularity of Gyuto knives, the market is over-flooded with hundreds of options. So, it isn't easy to find the best one.
Although two knives may seem similar, each may differ in quality, built-materials, and performance.
Worry no more!
To make your selection process hassle-free, we've tested and compared more than 60 models. Finally, we've short-listed these 7 models, which are best in quality to price ratio.
Let's explore them!
1. Yoshihiro VG10 Gyuto Japanese Chefs Knife
No products found.
Yoshihiro Cutlery is the most trusted and reliable knife manufacturing brand. And this Yoshihiro Gyuto is the most popular one of this brand.
If you're looking for a simple yet premium-quality best Japanese knife, just go for it.
Yoshihiro Gyuto is excellent for entry-level chefs and also for professional use. It is such a best quality cutting tool that makes every meal into special something.
It's the most versatile knife perfect for dicing, slicing, chopping, or carving. It features a double/ bevel edge. So, no worry for right- or left-handed uses.
The 3-layer blade construction with a VG-10 Japanese stainless steel core makes it harder, sharper, and durable. The edge is made of hardened steel for incredible sharpness and edge retention. It seamlessly cuts through almost any ingredient placed in front of it. It's also easy to re-sharpen.
You can use it for extended periods without the worry of any rust buildup. Both the steel core and outer steel are stain-resistant. So, you can leave it wet during use.
The 16 layers hammered outer texture is not only stylish but also functional for reducing friction and keeping food from sticking to the blade.
The wood handle with a full tang design ensures well-balanced for seamless uses. It's also triple-riveted for added strength. The Western-Style handle is handcrafted from premium Mahogany wood.
It's also classy and comfortable to hold in hand. It features slight contouring to suit the hand, which provides improved ergonomics in terms of both control and comfort.
Pros
Beautiful and functional
Rust and Stain resistant
Full tang design for excellent balance
Comfortable to hold and use
Easy to clean and maintain
Handcrafted in Japan
Cons
Hand wash only and sharpen on only quality whetstones.
More expensive than average
2. DALSTRONG Chef's Knife – Shogun Series X Gyuto
No products found.
The Dalstrong Shogun Series X Gyuto, combines outstanding craftsmanship with absolute high-quality materials for unrivaled performance and beauty. From the blade's tip to the end cap, the X-series Gyuto is the peak of beauty and stunning design.
Razor-sharp kitchen powerhouse!
Its professional quality blade makes this knife suitable for a wide range of kitchen tasks. It is a master of chopping, mincing, dicing, and slicing.
The precision-forged, ultra-premium Japanese HG steel blade is stain- resistant. You can be sure of a quality knife that features enhanced strength, flexibility, and hardness. Thanks to its precise cryogenic tempering process.
Scalpel-like sharpness with exceptionally long-lasting edge retention!
The blade keeps a superbly sharp- edge. Notably, the shogun series X gyuto blade is hand finished by using the Honbazuke 3 step method.
The hammered Tsuchime finish is a beautiful statement in the craftsmanship. This unique finish also creates an air pocket that reduces drag and minimizes stuck-on food.
You don't have to worry about the durability and longevity of the handle.
The ultra-premium G-10 handle not only durable but also comfortable to use. The ergonomic handle shape provides superior control and comfort. It is also tripled riveted for more resilience.
The non-slip handle withstands both cold and hot temperatures. It's also impervious to oils that frequently found in many kitchens. It needs very low maintenance and doesn't become brittle.
The engraved end cap adds distinction to this piece. Plus, the intricate copper mosaic on the handle enhances its beauty more.
What's more, the full tang design enhances robustness.
Safety concern?
The tapered bolster provides finger protection. It also ensures a perfect "zero balance" and gently encourages a natural pinch grip.
Conveniently, the 55mm blade offers improved knuckle clearance.
DALSTRONG X Gyuto is not only safe to use but also safe for storage. The premium-quality polymer sheath ensures your blade is carefully protected.
Pros
Professional grade quality, multi-purpose
Striking, standout beauty
Incredible edge retention
Provides Finger protection
Ergonomic handle design for superior control
Rust and corrosion-resistant
Built to last a lifetime
Non-stick and minimal slicing resistant
Cons
Not real made in Japan; it's made in China. However, it has the quality comparable to the original Japanese knife.
With 62+ Rockwell hardness, the blade is harder but unfortunately more brittle. So, you need to use it with care.
3. Tojiro DP Gyutou – FBA_F-808
No products found.
Tojiro F-808 is a very simple, sleek Gyutou chef knife. It's one of the most popular models with line cooks and chefs on a budget, not just home cooks.
The blade is edged on both sides. So, both the left-handers and right-handers can use it with ease. It's perfectly balanced, and the steel bolster just before the handle makes it safe to use.
What's more, the shortened bolster keeps the knife-edge exposed for easy sharpening. Plus, it provides plenty of clearance for knuckles.
It will help you in every cutting job of preparing a meal. The full tang construction makes it stable, comfortable, and easy to use. A pointy tip of the blade will help you to make some tricky cuts in the foods.
This piece is made in Japan. The Cobalt Alloy Steel (VG10) hard core ensures the strength of the blade. Plus, the 13 chrome stainless steel outer layer holds the edge well and makes it stain resistant.
The handle is made from reinforced, laminated material that can withstand hot and cold temperatures and won't be broken down by oil exposure. The handle is triple-riveted for added durability.
Overall, it's a great Japanese knife for the price.
Pros
High-quality Japanese craftsmanship
Stays incredibly sharp
Easier to sharpen
Great weight and balance
Durable through years of abuse
Cons
It does scratch & stain easily. So, if you put it in the dishwasher or let it bang around in the sink with other dirty utensils, it isn't for you.
4. FANTECK Gyuto Chef Knife, ABC002
No products found.
FANTECK Gyuto Chef Knife is an affordable choice for any shopper.
The 8-inch blade is perfect for slicing, chopping, mincing, and dicing any vegetables, fish, meat, fruit, and sushi.
The blade edge is accurately hand sharpened at a 10 to 15-degree angle for ensuring an effortless slicing experience.
Real Damascus steel chef knife!
The high carbon VG-10 Japanese Damascus steel core makes it durable at 62+ Rockwell hardness. The blade is stain-resistant and exceptionally strong. Thanks to its nitrogen cooling technique and vacuum heat treatment.
Excellent grip, superior control, perfect balance, and comfort are those advantages that its ergonomic design handle offers. The brown pakkawood handle with the acrylic rim is also looking good in hand.
The included sheath is excellent to protect the blade when not in use. What's more, the included mini sharpener is handy to re-sharpen the blade without much effort.
Finally, FANTECK ABC002 comes in a premium wooden gift box, making it a perfect choice for a gift.
If you're looking for the utility of a cutting tool without breaking the bank, this model from FANTECK will be a good fit.
Pros
Made of supreme material
Expertly crafted and durable
Ergonomic design
Perfectly balanced and comfortable
Resistant to stain and corrosion
Accurately hand-sharpened edge
Lifetime warranty
Cons
The handle needs to dry immediately after use.
5. Enso Chef Knife HD Series
No products found.
Enso HD 8″ chef's knife is handcrafted in Seki City, Japan, by expert artisans to ensure the overall incredible quality. For those who don't know, Seki is a renowned and one of the most popular sword-making Cities in Japan.
This product is designed to fit a variety of purposes and lifestyles. It features a machine-pressed blade kanji. The blade has sashimi or hammered finish.
The blade consists of a VG-10 core and 37-layer stainless steel Damascus. Each blade is heat-treated and hand- ground to approximately 12-degree cutting angle. So, it offers you razor sharpness and excellent edge retention.
Conveniently, the blade features a double bevel edge making it perfect for both left- and right-handed users.
With its curved belly, the Enso Gyuto gently rocks through any fruits, vegetables, and more to produce a fine cut.
The black canvas Micarta handle feels like wood; but you can use it without the worry of cracking. It features three stainless steel rivets for added durability.
What's more, the enclosed full tang handle is seamless that ensures the right balance, durability, and strength.
Enso includes a dark bamboo sheath with an embedded magnet in the spine. So, it'll securely stay on the blade yet making it easy to remove without scratching.
If you're looking for the best Damascus chef's knife for the money, look no further, you've found it.
Pros
Fantastic cutting performance
Timeless design
Razor-sharp edge
Safe and convenient to store
Excellent edge retention
Double bevel edge for left- & right- hand uses
Well-balanced and comfortable in use
Lifetime warranty
Handcrafted in Seki City, Japan
Cons
Not a budget-friendly option
6. MIKARTO Japanese Chef Knife
No products found.
Next, we have an excellent professional-grade Japanese Chef Knife from MIKARTO Knife Ware.
This multi-purpose 8″ chef knife will change the way you view cooking. It combines superior craftsmanship with high-quality materials.
From construction to performance, this knife embodies what a high- performance, high-end cutlery looks like.
Razor-sharp blade, high-retention, military-grade handle, ergonomic design- all of these features result in MIKARTO knife that makes meal prep work easier and more enjoyable.
Deadly sharp!
Built with VG-10 vacuum heated Damascus stainless steel, this blade is so sharp that it practically falls through anything.
The blade is incredibly resilient and durable, as well as outperforming all of its competitors.
It won't loss its Integrity easily.
The nitrogen cooling treatment gives the blade exceptional hardness. It's also corrosion-, and rust-resistant.
Conveniently, it requires minimal maintenance. So, you won't need to use your sharpening stone as often as you do with other knife ware.
The G-10 handle provides ultimate comfort and precise control. It's triple-riveted featuring a stunning mosaic copper pin.
Additionally, the engraved Mikarto logo in the blade and end cap is an alluring reminder of its uncompromising quality.
This piece is carefully designed to ensure maximum user- safety. Plus, the hammered tsuchime finish of the blade gives it a magnificent visual pattern. It also reduces drag for easy slicing.
Finally, it comes in a black and royal blue storage box with a safety snap clasp. It can be a perfect gift for special events.
Pros
Ultra-premium materials for uncompromising quality
Ideal for professional chef use
Razor-sharp edge
8 to 12-degree cutting edge for ultimate sharpness
Easy and safe to use
Ultimate comfort and precise control
Durable and resilient
Rust-, and corrosion resistant
Cons
7. Regalia Japanese Damascus Gyuto knife
No products found.
Without question, the Regalia 8" is the most essential and versatile knife for any chef or home cook.
Crafted from the finest Japanese AUS-10V super steel, the blade offers ultimate durability longevity. It ensures maximum edge retention without chipping or dulling.
Notably, the steel is vacuum heated to ensure maximum metal consistency and purity. Additionally, the nitrogen cooling process enhances the strength making the blade reliable and sure to stand the test of time.
The edge is honed with an angle of 8 to 12 degrees for razor sharpness to achieve the perfect cut every time.
The outer blade layer is consisted of 33 layers of high carbon Damascus stainless steel for resilience against corrosion and rusting.
Regalia features a tapered bolster that encourages a natural pinch grip for ease of use and ultimate comfort. Plus, the bolster allows easy access to re-sharpen the entire blade without interference. Of course, the optimal knuckle clearance provides enough room for use without interference.
The handle is specially designed for professional chefs who spend long hours at food prep. The ergonomically designed G-10 black Garolite handle offers excellent handle-ability and comfort.
Importantly this handle resists cold and heat. It will never absorb water, which can cause damage. Besides, it won't pick up germs or bacteria.
The triple riveted handle is also unparallel in toughness. Rosetta style center rivet adds a touch of elegance and style to this piece.
Pros
Masterfully designed
Scary sharp & maximum edge retention
Prevent both rusting and corrosion
True full-tang for ultimate durability
Nonporous handle for germ/bacteria resistance
Easy to re-sharpen
100% lifetime guarantee
Cons
Conclusion
Whether you're a pro or hobbyist, any of these above-reviewed models will be your beloved partner in your culinary life and journey.
We hope our comprehensive reviews have served you as a guide towards picking up the best gyuto knife.
Have a pleasant kitchen time!